Here at High Stream Healing, we offer a variety of services designed to enhance and improve your wellbeing and health, including Colon Hydrotherapy (on a Bio-Mat), Far-infrared Sauna, Vibra-Trim, Alimtox Foot Bath, and Nutritional Health Coaching.
Colon Hydrotherapy
We offer colon hydrotherapy services utilizing the Hydro-San enclosed system. Colon hydrotherapy is one of the oldest forms of natural healing. This non-invasive, safe and relaxing procedure helps clean the entire large intestine.
Keeping the bowel clean will not only reduce or prevent most types of disease but will also help eliminate constipation, diarrhea, chronic bloating, symptoms of fatigue,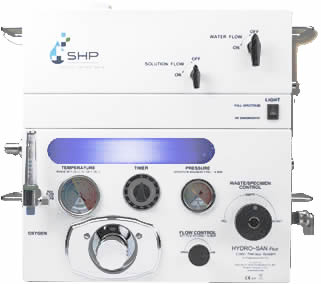 headaches, nausea and a whole list of other symptoms. In most cases a simple dietary colon cleanse is not sufficient to remove the old, hardened and compacted fecal waste. This is the reason why colon hydrotherapy is necessary. It is a safe and effective method of cleansing the colon of impacted waste material by repeated, gentle flushing with sterile water, using FDA approved state-of-the-art colonic cleansing equipment.
Waste material, if allowed to remain in the digestive system for too long results in the proliferation of bacteria and other toxins.
Treatment is gentle, clean and safe
Relaxing and discreet environment
Highly educated and supportive therapists
Trained in the ColoLAVAGE technique by Dr. Christopher Demetriou, GI Doctors, Long Island, NY. "Don't dread the Prep!" ColoLAVAGE makes preparing for your next colonoscopy or surgery easy!
Treatment is on a Far-Infrared BioMat (see info below)
Three stage water filtration system
3 and 10 series discounts available after your initial session
Bio-Mat (included with ALL Colon Therapy Sessions>>FREE)
You are comfortably reclining on a BioMat during your hour-long colon hydrotherapy session!
(Other clinics charge a $1/minute to simply lay on a BioMat!)
Here are the many benefits you are receiving:
Relieves minor muscle pain
Increases blood circulation 
Reduces stress and fatigue
Soothes and relaxes
Eases minor joint pain, and stiffness
Supports the immune system
Reduced inflammation
Increased tissue oxygen
Temporary relief of Minor muscular back pain
Temporary relief of sprains and strains
Temporary relief of minor muscle and joint pain and stiffness
Temporary relief of joint pain associated with arthritis
Temporary relief of muscle spasms
A temporary increase of local circulation where applied
Relaxation of muscles
Promotes relaxation by application of heat

Promotes restful sleep for those with occasional sleeplessness
---
Far Infrared Sauna 
Far Infrared therapy is a deep, radiant penetrative heat which resonates in the human cell. It is one of the most healing, beneficial therapies you can do for your body. Far-Infrared rays penetrate at the cellular level and pull toxins from the body safely through the skin.
Taking a Far-Infrared Sauna regularly can help you detoxify heavy metals and chemicals, lose weight, get rid of cellulite, stabilize blood pressure, and has been used to treat serious illnesses like cancer, chronic fatigue syndrome, fibromyalgia, and arthritis.
You can be exposed to Far-Infrared heat for hours and it will never cause your skin to burn. Far-Infrared is healthy and safe for all living things.
Since humans are bio-accumulators, toxins (such as sulfur dioxide, carbon dioxide, lead, mercury or chlorine) cannot be expelled immediately after entry, and are stored in our bodies. Where these toxins are accumulated, blood circulation is blocked and cellular energy is impaired.
However, when Far-Infrared waves are applied to these large water molecules, the water begins to vibrate. This vibration reduces the ion bonds of the atoms which are holding together the molecules of water. As the breakdown of water molecules occurs, encapsulated gases and other toxic materials are released.
Health Benefits:
Burns 600 calories in 30 minutes
Detoxifies at the cellular level
Reduces cellulite and cleanses skin
Improves skin tone
Lowers blood pressure
Increases circulation and blood flow
Relieves muscle and joint pain
Improves joint stiffness and inflammation
Reduces stress and fatigue
Please allow at least 45 minutes for each session – 30 minutes for treatment and 15 to undress, quickly shower and redress.   
I highly recommend that everyone have their own FIR sauna to enjoy regular 30-minute sessions in the comfort of your own home. FIR Sauna is definitely a much-needed therapy in supporting your body's detoxification process in this very toxic world we live in.
To purchase your own ClearLight Sauna for a daily detox in the comfort of your own home click here.
When you purchase a Sauna from this company, let us know and we'll give you a FREE Sauna session while your new sauna is on its way to you! If you are not in the Boise area, please still let us know so I can answer any questions you may have!
---
Vibra-Trim
Russian scientists began studying and researching Whole Body Vibration and fine-tuned this technology for years. They used this technology to help rehabilitate their cosmonauts after returning from space to help repair muscles from atrophy and bone density loss due to the weightlessness of space.
By standing on the plate, the vibration generates systematic involuntary muscle contraction throughout the body. This increases your flexibility and also burns fat by increasing your metabolism while also improving circulation and providing your cells with ideal oxygen and nutrient delivery to slow the degenerative process.
Having a VibraTrim session before your colonic will stimulate your lymph system, which helps you release more toxic waste at the cellular level during your colonic!
When you stand on your VibraTrim, the vibration energy is transferred to your entire body.  This pleasant vibrating action causes the brain to tell the muscles of your body to actively contract to maintain its equilibrium, thus creating a therapeutic and muscle-toning workout.
Improve your well being
Stimulates lymph system for better waste removal
Boosts levels of Testosterone and natural HGH
Reduces the effects of stress
Improves skin quality
Creates a balance of body and mind
Improves circulation and increases blood oxygenation
Decreases diastolic blood pressure
Strengthens muscles – particularly the back/spine
Reduces back pain and stiffness
Improves cellulite reduction
Improves collagen production
Stimulates metabolism
Decreases levels of cortisol (a hormone released when we're under stress)
Strengthens bone tissues – Combats osteoporosis
Rehabilitate injuries and ailments
Rapid recovery after exercising
And so many more benefits!!
I LOVE my VibraTrim, especially on our cold wintry days when I can't get out for my daily walk in the foothills!
I am an affiliate with VibraTrim and would appreciate it very much if you would let them know I referred you.  If you decide to buy one, you'll get $100 off your price!!
After extended research, they are the BEST for the price, having 2 motors hence 2 different beneficial movements all in one machine!   
Ed Brown is who to call.  Please let him know I referred you for $100 off your price!
If you do buy one, through my referral, you will also receive 3 FREE sessions while you wait for yours to arrive!
Just call/text us at 208-850-8075 to set up your appointments!
---
Alimtox Footbath
The Alimtox Ion Detoxifying Unit is quickly becoming one of the most popular Ion Detoxifying Units in today's market due to it's the latest technology, ease of use, effectiveness, and reliability. This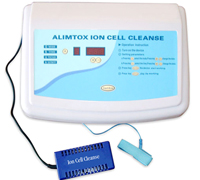 foot bath relaxes, cleanses, balances and enhances the bio-energy of the body. Chinese medicine refers to this energy as "Qi"(pronounced chee). We believe, due to the effects of the Ion generator, that complex energy fields can permeate and realign the body's energy field, while improving oxygen levels. The foot bath is widely used to increase both physical and mental energy, vitality, and stamina. At the same time, it may also purge the body of toxins, chemicals, radiation, pollution, synthetics, and other foreign material clogging up the skin – an essential part of the body's system of elimination. The internal cleansing promoted by an ionic foot bath also can include parasite cleansing and liver and kidney detoxification.
An Alimtox Ion Cell-Cleanse Foot Bath is a high tech detoxification system that can help enable the body to heal itself.  It's the perfect solution for body pollution!
Health Benefits:
Liver and kidney detoxification
Improved memory and mental clarity
Reduction of stress and restful sleep
Relief from body aches and pain
Supports elimination of parasites
Full body purge of heavy metals and toxins
---
Nutritional Health Coaching
Following the writing and teachings of Anthony William, The Medical Medium, I have finally come to a clearer understanding of what is truly going on with regards to the state of the drastically declining health around the world.
I am now 100% confident of what foods, herbs, and supplements are truly needed to make real headway in my own and my client's, friend's and family's health journeys!
I can coach you but only YOU can take the action steps needed to move forward on your healing journey.
To work with me, I require that you commit to at least 3 one hour consultations, which will include a shopping trip to my local health food store, The Boise Co-op.
It would be my honor to guide you along your path in understanding the food and lifestyle choices that strengthen your body, mind, and soul. Let us chart your path to your best self!
The information is presented for educational purposes only and is not intended to diagnose or prescribe for any medical or psychological condition, nor to prevent, treat, mitigate or cure such conditions. The information contained herein is not intended to replace a one-on-one relationship with a doctor or qualified healthcare professional. Therefore, this information is not intended as medical advice, but rather a sharing of knowledge and information based on research and experience. Boise Colon Cleanse encourages you to make your own health care decisions based on your judgment and research in partnership with a qualified healthcare professional. These statements have not been evaluated by the Food and Drug Administration. The information on this website is not intended to diagnose, treat, cure or prevent any disease.